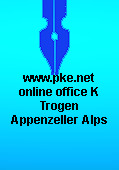 © 1995-2008
all rights -
text, pictures,
content
and advertising.
online-office K
Eveline and Pius
Kessler CH-Trogen
---
Cook Islands - The Private View
---
DEUTSCH
Willkommen auf den Cook Islands - Paradies in der Südsee. Nach unserer Familienreise nach Neuseeland entdecken Sie hier dank online-office K diese Südseeinsel aus privater Sicht.

ENGLISH
Welcome to the Cook Islands - The Private View! Online-office K is proud to offer you a special view about this paradise in the South Pacific and (exclusive!) accommodation-information.
Cook Islands - The Private View - offeriert
---
Cook Islands - The Private View offers
---
Rarotonga: Lagoon Lodges
e-mail: Lagoon Lodges
Motel-Anlage durch Strasse von Meer getrennt - aber ruhige, grosszügige Anlage mit schönem Garten und viel Platz. Schöner Strand, Swimmingpool, nette Betreuung und schöne Bungalows. Preisklasse: Mittel bis hoch.
Rarotonga: The Rarotongan
e-mail: Rarotongan
Eine der ersten Adressen auf Cook Islands. Allerdings eher für Kurzaufenthalte. Trotz "Neckermann"-Touristen Treffpunkt der Einheimischen. Eigener Strand. Preisklasse: hoch.
Rarotonga: Edgwater
e-mail: Edgwater
Grössere Anlage, mit Touristen-Touch. Bunker. Gruppenreisen. Schöner Strand, schöne Terrasse. Preisklasse: mittel
Rarotonga: Muri Beachcomber
e-mail: Beachcomber
Kleine Anlage, eher eng! Direkt am Strand. Preisklasse: hoch (im Vergleich zum Angebot)
Rarotonga: Moana Sands
e-mail: Moana Sands
Anlage direkt am Meer, fantastische Sonnenuntergänge. Aber keine typischen Südsee-Villen! Ausser zwei neuen Häusern, die sehr teuer sind. Schweizer Koch - für solche, die gerne europäisch Essen. Preisklasse: mittel bis sehr hoch
MAUKE - Island: Cove Lodge
e-mail: Cove Lodge
Mauke ist eine gute Flugstunde von Rarotonga entfernt. Die Cove Lodge ist ein Gästehaus, das mit typisch einheimischer Freundlichkeit geführt wird. Ein absolut ruhiger Ort! Geheimtip. Preisklasse: mässig bis günstig, wenig Hotel-Komfort!
---
---
See the Cook-Islands Websites, with Rarotonga, Mauke, Travel, Houses to rent!
Die Cook-Islands-Webseiten mit Reiseberichten, Ferienhäuser zu vermieten, Rarotonga, Mauke und mehr Geschichten!
---
The Kessler Family
Eveline, Pius, Malolo and Kim Kessler
online-office kessler&co
Appenzeller-Alps, Switzerland
Internet: http://www.pke.net - www.mia.ch - www.medienschule.ch - www.fit.ch - www.chirofit.ch